While used for similar applications, fused silica and quartz glass have key differences. Consider this.
According to AZO Materials:
"This synthetic material, normally referred to as synthetic fused silica, has better optical properties and is somewhat more expensive than the other type.
"In the UK, terms such as quartz, silica, fused quartz and fused silica tend to be used interchangeably. In the USA, quartz refers to material melted from grains, silica refers to the synthetic material.
Advantages of Fused Silica/Quartz Glass
"The advantages of fused silica or quartz glass include:
Incredibly thermally shock resistant (can be taken from red heat and plunged into water without cracking)
Low coefficient of thermal expansion
Optical transmission properties from ultra violet to infra red
Good chemical resistance
Excellent electrical insulator
Applications of Fused Silica/Quartz Glass
"Applications Applications of fused silica/quartz glass include:
Windows
Lenses
Mirror substrates
Crucibles, trays and boats
UV transmitting optics (synthetic fused silica)
IR transmitting optics
Metrology components
Properties of Fused Silica/Quartz Glass
Table 1. Typical properties of fused silica/quartz glass.
Property

Units

Value

General

Chemical Formula

n/a

SiO2

Density

g/cm3

2.23

Mechanical

Design Tensile Strength

MPa

48

Design Compressive strength

MPa

1100

Young's Modulus

GPa

72

Thermal

Max. Use Temperature

°C

950-1300

Thermal Conductivity

W/m.K

1.4

Co-Efficient of Linear Expansion

10-6/°C

0.55

Electrical

Volume Resistance

Ù.cm

1016

Dielectric Constant

 

3.7

Dielectric Strength

kV/mm

40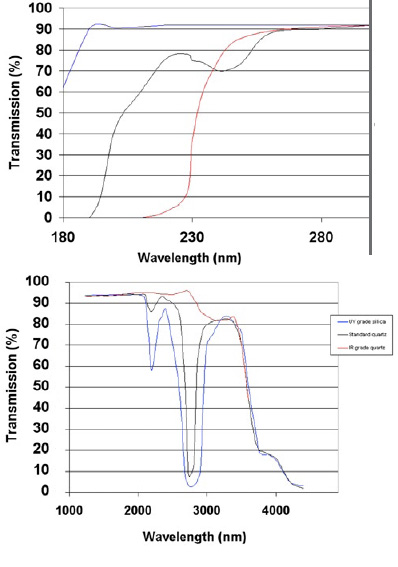 Figure 1. Transmission curve for 10mm thick fused silica/quartz glass (including surface reflection losses).
"Properties of fused silica/quartz glass shown are typical values, they are not absolute material properties, and should be used for guidance only. It is recommended that materials and components are tested for their suitability for a specific application."